Come and enjoy the Ropeway Shopping Street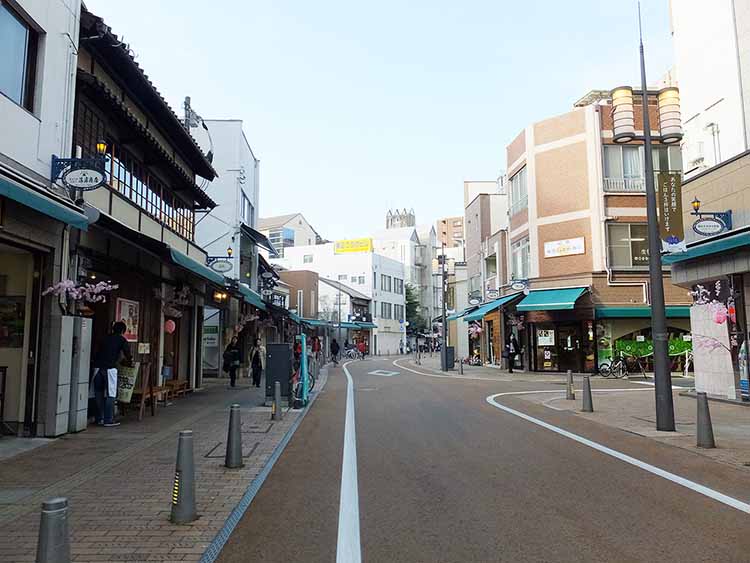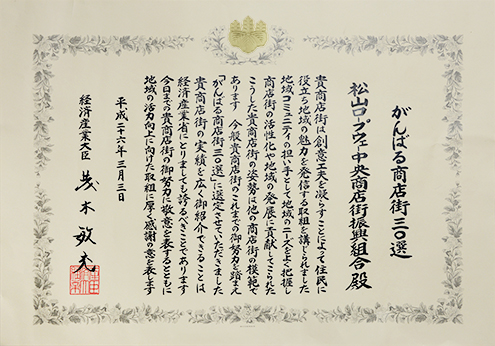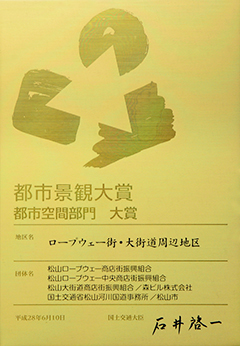 The Ropeway Shopping Street is about 500 meters long, from Ichiban-cho, Matsuyama City, to the Ropeway Shinonome-guchi Station Building. The Street is one of the rare barrier-free shopping streets in the country. It is located at the foot of Matsuyama Castle, one of the two largest landmarks in Matsuyama City, and was selected as one of the national "Hard working 30 shopping districts" by Ministry of Economy, Trade and Industry in 2014, and was decorated as "Minister Prize of Land, Infrastructure, Transport and Tourism", the highest urban landscape prize, in 2016.
Quite a lot of shops have opened in the old day, which makes the Street have calm townscapes (especially night view) and have favorable reputation of locals as well. Recently, there are popular restaurants and shops which serve dishes using ingredients from Ehime, such as "Tai-meshi" (Seabream and rice) the Uwajima specialty, "Yakibuta-tamago-meshi" (Roast pork and a fried egg on rice) which won the Gold Medal at the B-1 Grand Prix (2012), and high quality "Orange Juice" by careful selection of producers and producing areas.
As for shopping, this Street boasts its variety for souvenirs such as "Imabari Towel" which is in the first place for Ehime brand, "Tobe Ware" designated as an intangible cultural heritage of Ehime Prefecture, the sweets named "Kirino mori daifuku" awarded the bronze prize for the best online orders and "Hime Daruma" said to be originated around fourth century.
The Ropeway Shopping Street is a street full of words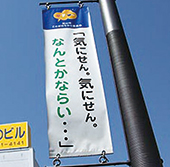 Unique phrases are written on banners hanging from street lights along the Ropeway Street. These phrases were selected in contests run by Matsuyama City and the "Words Are Power" Committee. Glancing upward, you will see phrases that stir your heart. When walking down the street, we often see local people and tourists smiling as they look at the banners.
A total of 17 street lights are placed along the Ropeway Street, each of them holding two banners. On 21 banners are phrases that have won prizes in contests. The other 13 are designed with silhouettes of characters from the novel Saka no Ue no Kumo (Clouds Above the Hill), such as Masaoka Shiki and Akiyama Saneyuki.
The story of Bishamon Tanuki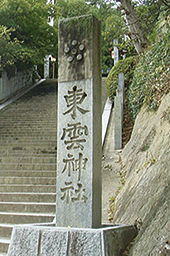 The north end of the Ropeway Street, around the entrance of Shinonome Shrine, is called Bishamonzaka (Bishamon Slope). Until around 1884, there used be a temple, Bishamon-do, on the right of the shrine's stone stairs. A raccoon dog named "Bishamon Tanuki" was living on this slope. He is said to have been very mischievous and good at taking the form of a lantern or a priest.
After railroad service between Dōgo and Ichiban-chō started in 1897, Bishamon Tanuki often took the form of a train and surprised passersby. Late one night someone was walking on the rails to take a shortcut on his way home after taking a bath in Dōgo. Then a train with a red lamp came plunging toward him, so he stepped aside in a flurry, fell into a side ditch, and got hurt. How mischievous Bishamon Tanuki was!
But this tanuki, whose eyes were rimmed with red, granted people's wishes if they prayed to him, calling him "Daimyōjin" (Great God). And so maybe he was popular…or maybe not. In 1884, Bishamon-dō was moved to Tamayoshi Temple in Ichitsubo.